Wednesday, December 11, 2013
Thursday, December 5, 2013
Do you like silverware?
Real silver silverware?
How about re-purposed silverware?
I have the perfect little Etsy shop for such a thing.
Aly makes the most fun, conversational, and unique silverware I have ever seen. I'm pretty sure she hunts high and low at antique stores, garage sales, good will, etc. to find the perfect silverware and personally hand stamps a fun, loving message on each one. You can even have her make a special order. For instance I have a pair of dinner forks that say KING and QUEEN on the fork part, and our anniversary date on the handle. I'm waiting to give them to Jeff for our anniversary.
Here is something I am looking forward to putting in my cart when she opens up again.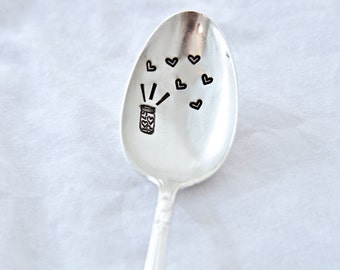 Aly's
store
is closed for the holiday, but she will be open again in the New Year. You can also like her
Facebook
page and check out some of the amazing things she has created.
Go check it out!
Posted by

Suzi
at 9:32 PM
1 comments